In-house Telephone Centers
WBA maintains 34 CATI (Computer Assisted Telephone Interviewing) -equipped stations at our office in Lanham, MD. We have the ability to conduct interviews in both English and Spanish, including translating questionnaires and open-ended responses for coding.
Why do we have in-house telephone interviewing?
The answer is simply to maintain the highest levels of quality. We start with strict hiring requirements, including conducting background checks on all employees, and extensive testing to ensure they can/will read verbatim, can type well enough to effectively capture open-ended responses, and are technologically proficient. Then, all interviewers must go through rigorous (2-week) training which covers the importance of maintaining the highest standards of ethics and professionalism, as well as a detailed explanation of proper survey administration. In addition, every telephone study begins with formal briefings from project managers and telephone center supervisors, during which we provide an overview of the project, an in-depth review of the questionnaire and offer tips on how to overcome anticipated obstacles. Only after interviewers feel sufficiently prepared will they finally start conducting live interviews on your study.
WBA maintains its high-quality standards with between an 8 and 10:1 interviewer-to-supervisor ratio. As interviewing proceeds, there are layers of quality control in place, including continual monitoring, feedback, and ongoing training by the supervisors. At least 10% of each project's interviews are monitored or validated. Clients are welcome to monitor calls as well.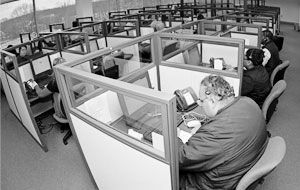 Lanham, MD Telephone Center