Latest Capitol Communicator/WBA Market Research Study Shows 47% Smartphone and 29% Tablet Usage Among DC and Baltimore Area Consumers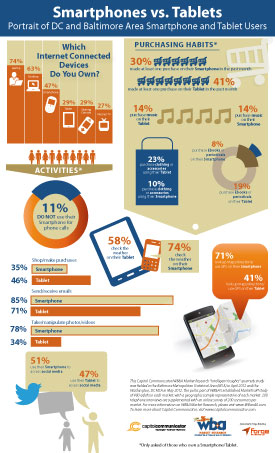 Capitol Communicator and WBA Research have released the latest "Intelligent Insights" study on smartphone and tablet usage in the DC and Baltimore markets. This quarter's study, sponsored by FORGE Branding, covers purchasing habits, access to social media, and activities that are performed on both devices.
The study was fielded in the Baltimore Metropolitan Statistical Area (MSA) in April 2012 and the Washington, DC MSA in May 2012. The poll is part of WBA's established MarkeTrak® study of 400 adults in each market, with a geographic sample representative of each market. 200 telephone interviews are supplemented with an online survey of 200 consumers per market.
Intelligent Insights Infographic (Smartphone vs Tablet) – 2Q12